"GUNPLAYS: is a series of five plays by William Electric Black addressing inner city violence and guns.
William Electric Black's record with "activist" plays is admirable. In 2009, he directed Theater for the New City's sensational and serious "Lonely Soldier Monologues: Women at War in Iraq," a staged series of monologues based on a book by Helen Benedict. The play earned widespread notice and significantly helped the issues of America's female soldiers to be widely recognized for the first time.
Mr. Black has also issued a children's book, "A Gun Is Not Fun," and is now looking for community groups, businesses, government agencies, school systems, hospitals, and churches to underwrite the cost of printing so that children in Pre-K/1st & 2nd grade can get free copies.
Upcoming:
SUBWAY STORY (A SHOOTING)
WHERE AND WHEN:
February 22 to March 18, 2018
Theater for the New City, 155 First Ave. (at E. 10th Street)
Presented by Theater for the New City
Thursdays through Saturdays at 8:00 PM, Sundays at 3:00 PM
$15 general admission, $12 Seniors/Students, $10 groups
Box office (212) 254-1109, www.theaterforthenewcity.net
Group sales: Alex Santullo (212) 475-0108
Running time 85 min.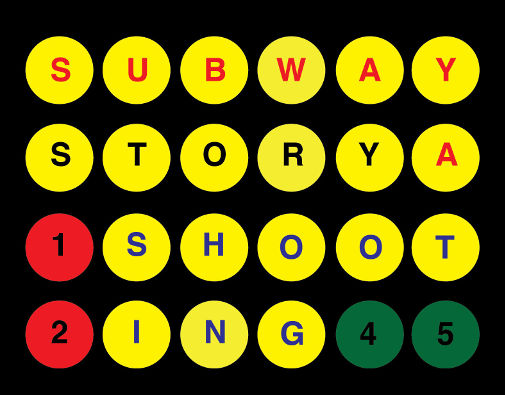 "Subway Story (A Shooting)" will be the fifth and final play in the GUNPLAYS series addressing inner city violence and guns. While other plays of this series have been rather realistic in style, this final installment is more mystical, employing physical theater, choral chanting and stylized movement. It is set mostly on the New York subways.
The play is the unfolding of an essay by an African-American teenage girl named Chevonn, which she must complete to pass junior English. It is supposed to be nonfiction but instead turns out surprisingly literary in style. In her composition, a troubled, abused high school student combs the subways, seeking to obtain a gun in order to shoot her mother. Her quest is narrated in a fantastical mashup of literary images that are part Lewis Carroll and part queasy reality, revealing issues affecting our children including alienation, discrimination, bullying and the easy availability of firearms. Chevonn's autobiographical tale strongly suggests how society needs to perceive the hopelessness that kids face and how this can make them lash out with guns or turn them on themselves.
Click picture to watch segment on WABC-TV's "Here and Now"
Aired: Feb. 11, 2018.
The piece challenges us with what leads young people to gun violence: a convergence of individual, family, peer, school and community risk factors. Of all these, studies suggest, the strongest predictor of youth gun violence is exposure to or history of violence. We are prompted to ask ourselves: are we desensitized or numb to the pressures our children endure, like people who stand passively by while tragedies incubate in plain sight around them?
Click picture to watch segment on New York 1 "In Focus" with Cheryl Wills. Aired: March 4, 2018.
As Americans, we are now a struggling to find our bearings after two months of mass shootings--Las Vegas, the Baptist Church in rural Texas and Rancho Tehama Elementary School near Sacramento. This play does a service by bringing our focus back to the larger problem of gun violence among young people in urban settings. While mass shootings tend to be the focus of national news stories, they account for less than one percent of gun deaths each year. Reviews of literature on gun violence* reveal that violent crimes in urban areas are more likely to involve guns than in suburban or rural areas. While school shooters tend to be from stable, low crime towns and suburbs who generally do not know the people they kill, street shooters tend to live in densely populated areas with high levels of crime and poverty, and they tend to kill individuals they know. The death toll from our three recent mass shootings currently stands at 90. In 2016, there were about 6,600 gun-related deaths among youths 24 and younger.
Even youths who are not hurt by guns but witness gun violence are likely to experience adverse outcomes later in life. The many productive years lost among millenial citizens, directly and indirectly, from urban gun violence is a major drain on our society, as is the potential extinguished by related time in the criminal justice system. The inescapable realization is: while it is undeniably necessary to prevent mass shootings, there is greater carnage happening a few short miles, and possibly blocks, from our theaters.
A series of talkbacks with experts in various fields on three Sundays following the show aim to elucidate the pressures driving gun violence in young people.

_______________
* Development Services Group, Inc., "Gun Violence and Youth," Literature review. Washington, D.C.: Office of Juvenile Justice and Delinquency Prevention, 2016. And Parsons and Johnson, "Young Guns: How Gun Violence is Devaststing the Millenial Generation" (Generation Progress and Center for American Progress, 2014).